PROCESSING
form a to z
All our mechanical machining services
Milling
5 Axis
A very high-level continuous 5-axis milling center, with a fixed bench structure and mobile column, guarantees the optimization of performances such as rigidity, sensitivity, precision, reliability, speed, and consistency of tool behavior (regardless of variations in temperature and from the stresses generated during the removal process).
3 and 3+2 Axis
The milling-boring department ensures productivity and precision, maximizing performance in the processing of small to large-sized pieces.
Technological innovations allow the optimization of every process, both roughing and finishing on cast irons, steels, and alloys.
Turning
The turning department carries out parts obtained from bars, castings, and moldings of any type of material.
Maximum workable diameter 700 mm and useful length 3000 mm. The machines are equipped with bar loaders and motorized turrets.
Since 2020 DUEDI Srl has actively collaborated with the new company DUEDI Srl Tornitura Metalli regarding all turning processes.
Cutting department
Our cutting department can count on multiple machines, both CNC and manually controlled:
Cosen C3
MEP Shark 332
Amada
Pedrazzoli
Thanks to them we can perform cuts on materials with a maximum diameter of 360 mm or rectangular plates with maximum measurements of 400x360 mm.
Toothing and broaching
The department is able to work any type of toothing and hole slots, with a maximum width of 100 mm and length of 1000 mm.
Heat and surface treatments
To offer an increasingly complete service to its customers, the DUEDI company offers the possibility of delivering any finished product including heat and surface treatments.
Thanks to a network of suppliers consolidated over the years we can guarantee the following treatments:
Relaxation and Normalization Treatment
Induction hardening treatment
Gaseous Nitriding Treatment
Sandblasting treatment
Burnishing treatment
Anodizing treatment
Galvanizing treatment
Geomet. Treatment
Automatic tool warehouse
DUEDI has always tried to optimize the production area, which is why it was decided to purchase a fully automated MGT tool warehouse that can be managed remotely via a management system.
With its almost 4500 positions we have the possibility of storing various types of tools (tips, cutters,
inserts, PPE, etc.) to always have an updated situation of all the material used at hand.
Vertical warehouse
Given the ever-increasing number of active machine tools and related technical personnel on-site, it was decided to implement the use of a fully automated raw material warehouse.
A Ciampalini system has been in operation for years which makes the management of raw material much simpler and more controlled.
Thanks to it, today it is possible to store and trace in real-time all the material contained in its 25 crates with a capacity of 30 quintals each. Furthermore, at any time, it is possible to check the quantity available for each type of material and, if used, on which work order it will then be used.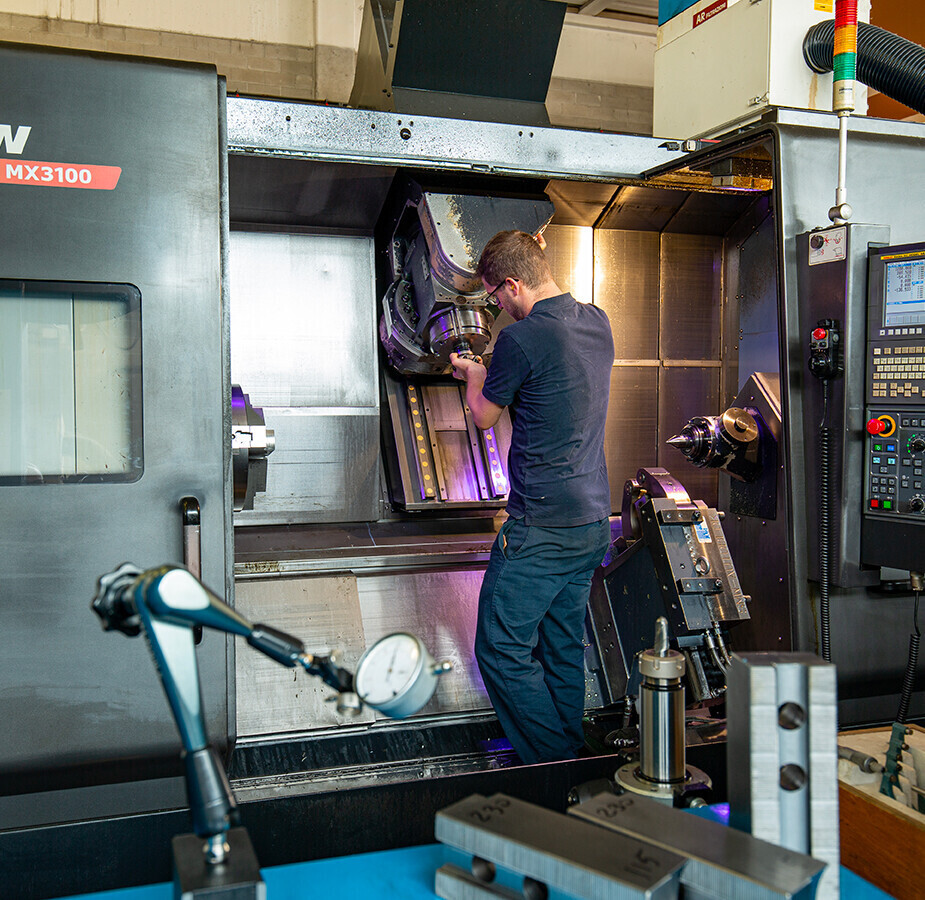 CAD CAM
The management of all machinery takes place through CAD CAM programming with OPEN–MIND hyperMILL® technology which allows both simple and complex geometries to be efficiently programmed to perform movements of up to 5 continuous axes. Furthermore, the company uses Autodesk Product Design Suite software as a tool for designing, simulating, sharing, and viewing 3D products, capable of managing the entire design process.